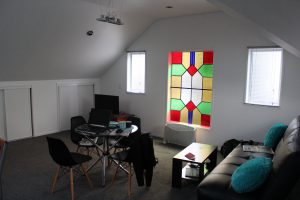 Welcome to our online travel journal! I'm writing this very first post from Auckland, New Zealand, in a cute little Airbnb located above a garage in the delightful neighborhood of Ponsoby. Unfortunately the weather has been far from delightful, but this has allowed me to spend some time creating this site, which I hope to use as a way to share our journey with our friends and family back home.
If by some remote chance you stumbled upon this site by accident, you are most welcome to have a look around! You'll soon learn that this isn't your typical travel blog: there are no hashtags, no Instagram or Facebook links, no likes, shares or comments. It's really just a place for me to chronicle all the events of this strange and wonderful period of my life: The Big Trip.
First, a bit of history…
It all began when I lost my job. After nearly 20 years working in the IT Industry in Montreal, Canada (the city I was born and grew up in), the company I worked for was bought by another one, and my position became redundant. Rather than look for another job, I thought I'd try something new and see if I can work independently from home. If successful, I thought that maybe, just maybe, I could do this from anywhere in the world.
So, after a year of getting used to my new self-employed routine, I decided that yes, it would be possible to work remotely while travelling the world. Maybe not indefinitely, but perhaps for 3 months, maybe 6, maybe even a year. Whatever the case, I was going to do it. I was in my mid-forties, it was now or never. No matter what, it was going to happen.
From that point on there were many, many steps that lead me to being on a plane, heading west to New Zealand. Maybe I'll write about it one day, maybe not.
The Big Trip
So, the general plan was simple: work and live around the world, starting with New Zealand, and then slowly move westward until the globe was circumnavigated. We didn't want to plan too much in advance, just enough to know what preparations to make, but not enough so plans could be changed should something come up.
Hopefully you'll be able to follow along on our adventures by reading the posts on this site, which I hope to update regularly. Keep in mind however that I may not be able update as often as I would like due to my work commitments, not to mention time spent actually seeing the world!
– Michael.
michael@anothertimezone.com